Programming for Evolutionary Biology (PEB) conference
April 7th – April 10th 2021
Due to COVID, the EVOP course will not take place during the spring of 2021. Therefore, we bring back the Programming for Evolutionary Biology (PEB) conference on April 7th-April 10, from 5pm to approximately 9pm!
The PEB conference brings together scientists broadly interested in applying bioinformatic tools to answer evolutionary and ecological questions. Unlike other conferences featuring mostly talks and poster sessions, it aims to serve as a platform for discussing common programming pitfalls encountered during research and features workshops to further develop participants' bioinformatic skills. This conference is completely free of cost!
Due to the current situation, the conference is held online (Zoom). There will be four workshops, on Phylogenetic analysis in R, Modelling of protein structures, Network analysis, and Long read sequencing analysis. Besides this, there will be short 10 min talks by the attendants, followed by 5 min discussion. Giving a presentation will be recorded on your conference attendance certificate, and there will be a prize for the best talk! On the final day (April 10) there will be a more relaxed atmosphere. So, don't hesitate to registrate with the button "MiniPEB: Registration" above! This registration page is open until 2nd April, 11.59 pm (CET).
If you have any questions, contact us through: pebconference2021@gmail.com
Best wishes,
The PEB conference team 2021:
Aimer Gutiérrez Díaz, Michigan State University, US

Jeong-Eun Lee (Ama), Free University Berlin, Germany

Esteban López Tavera, TalTech in Tallinn, Estonia

Deisy Gysi, CCNR – Northeastern University, US

Dora Henriques, CIMO, Instituto Politécnico de Bragança, Portugal

Hemanoel Passarelli, Universidade Federal de Minas Gerais, Brazil

Isolde van Riemsdijk, University of Tübingen, Germany

María Luisa Martín Cerezo, Linköping University, Sweden
Stefanie Agne, University of Potsdam, Germany

Time Schedule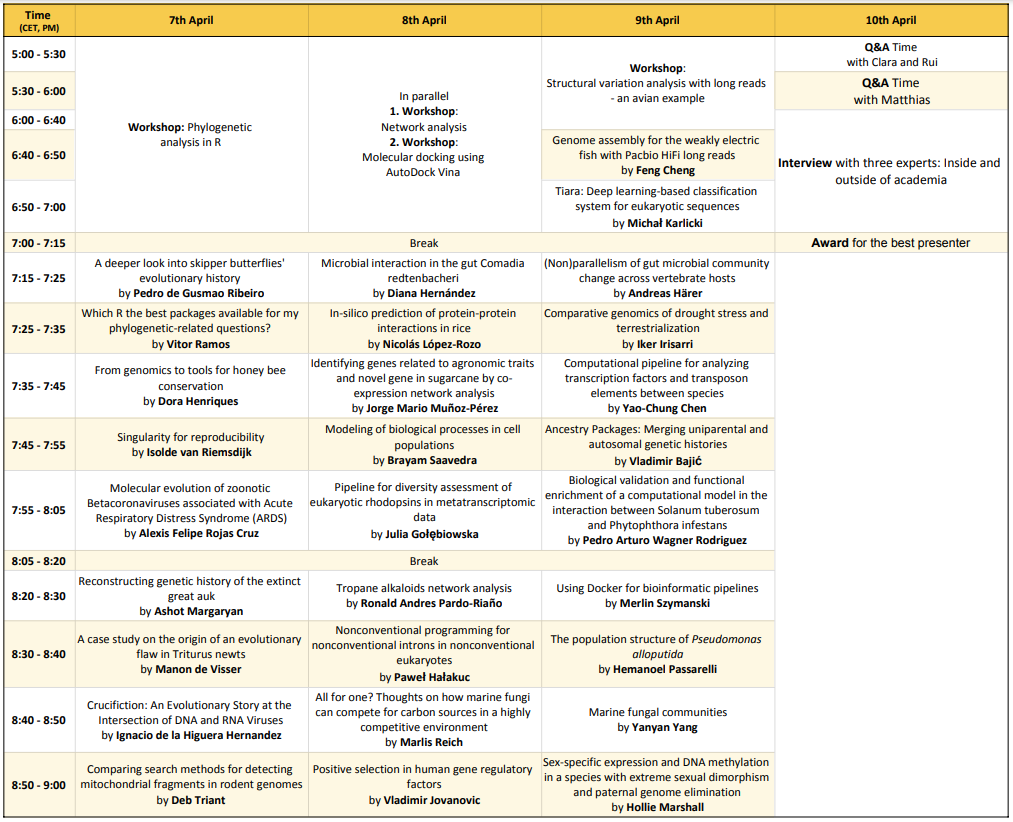 The breaks during the workshops are already included.